How to trip authenticate my journey?
Created by: Kyle Risi
About this guide
This help guide will walk you through the process of downloading, installing and using the trip authentication feature - part of the Liftshare smart parking functionality. This guide is helpful if you are required to trip authenticate each time you share your journey with a teammate and are not sure where to begin.
Important: If you have downloaded the Liftshare companion app but you do not see the option to trip authenticate your journey, this this may be because you are not in the correct community. Please reach out to your onsite Liftshare Manager or contact Liftshare Support, telling us which community scheme you think you should be a member of, and we will arrange for your account to be moved across.
Before you get started
Download the Liftshare Companion App
Before you can trip authenticate your journeys, you first need to make sure you have downloaded the Liftshare companion app from the Google Play Store or the App Store on to your smartphone.
A reminder to corporate community members
If you are a corporate carshare scheme member, then you need to make sure you sign up to Liftshare via your organisation's dedicated Liftshare URL, otherwise you will risk not having any visibility of your colleagues.
Your community's dedicated Liftshare URL can be found on any marketing posters or flyers promoting your organisation's Liftshare community. You can also reach out to your organisation's Liftshare Manager onsite. Alternatively, contact Liftshare Support and let us know which community you should be part of and we can add you to it.
When and how often to trip authenticate?
It's important that trip authentication is done at the start of the journey so that the system accurately records the start time and location of the journey, which helps determine eligibility for rewards or incentives. It allows for the authentication to be used for the purposes of parking permit verification that day.
You should trip authenticate once per journey. If it is a return journey please trip authenticate at the beginning of the outbound leg only, and not also on the return leg. In fact, the Liftshare trip authentication system does not allow you to authenticate more than once every 12 hours.
How to Trip Authenticate a journey
Launch the Liftshare Companion app on your smartphone.
If you are not signed into your account, log in using the email address and password associated with your existing Liftshare account.
Note: At this moment in time it is NOT possible to register for a new account via the Liftshare companion app. Please visit your Communities unique URL and register an account first.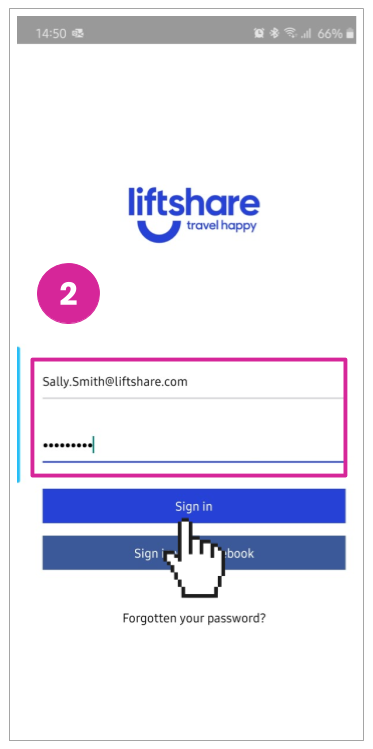 3. Once you have logged in, click Authenticate on the companion app home screen.

Note: If you are expecting to see the Authentication function in the app but don't see it, then you have likely signed up to the wrong community. Please contact support with details of the community you think you should be in.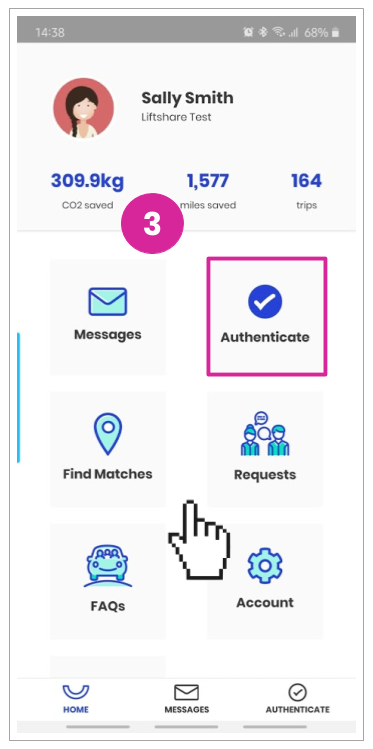 4. Select whether you are the DRIVER or PASSENGER and get your teammate to do the same.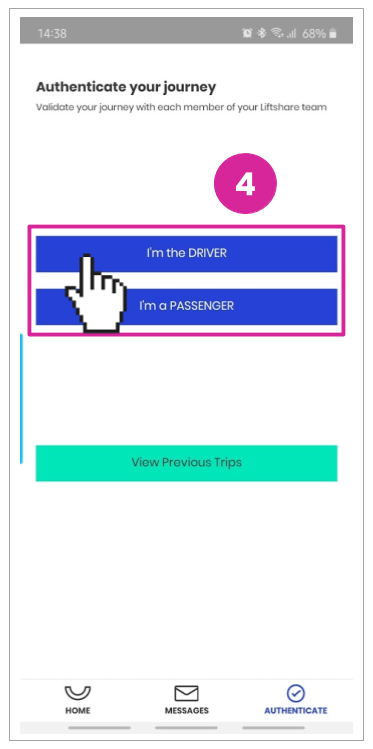 5. Once the QR code has been successfully scanned you will receive confirmation of the authentication.
If you have selected I'm the DRIVER, then a QR code will appear on your device ready to be scanned using the passenger's smartphone camera.
If there is more than 1 passenger on the journey then each passenger must scan a different QR code; this means the driver will need to generate a new QR code for each passenger – a new QR code is generated by selecting 'Add a new passenger' after the first code is scanned. All passengers should authenticate (scan QR code) at the final pick up point of the last passenger.
Be Safe
Please make sure you follow the law around using mobile phones and devices when driving, If you are the driver then your vehicle must be parked, with the engine switched off, before using your mobile phone.
Got more questions? We're here
If you have any other questions, why not raise a support ticket and someone from our team will be able to help.
Travel Happy!
Your Liftshare Team