How to update my email and notification preferences
Created by: Kyle Risi
About this guide
This help guide will walk you through the process of updating your marketing and notification preferences for;
Newsletters and marketing emails
Journey Alerts for active journeys
How to update your email and notification preferences
Unsubscribe from Liftshare newsletters and marketing emails
You can opt in and out from receiving Liftshare newsletters, community news, upcoming events, tips and competition emails and notifications by adjusting your notification preferences from your account settings page.
From your account settings page, check the "Notifications check box" to opt in to receiving marketing emails and uncheck the notifications check box to opt out from marketing emails.
Unsubscribing from Journey Alert emails
If you no longer wish to receive email alerts when another member adds a journey that matches one of your active journeys, then you can disable these alerts from your My Journeys page.

Click the My Journeys link from the top of the webpage to access the My Journeys page:
Click the Disable Alerts option for journeys you no longer wish to receive journey alerts for:
You can also disable Journey Alerts by clicking on the link within the journey alerts email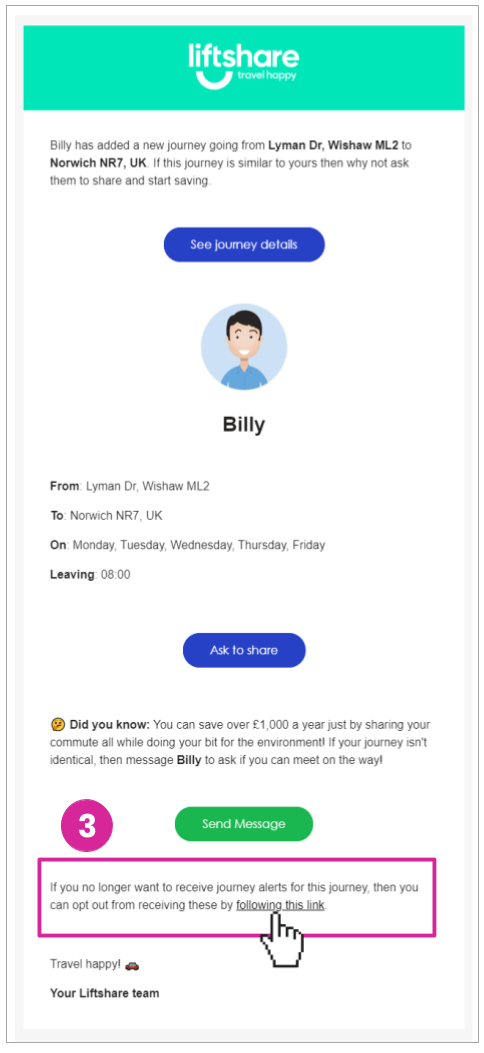 Got more questions? We're here
If you have any other questions, why not raise a ticket and someone from our team will be able to help.
Travel Happy!
Your Liftshare Team
K